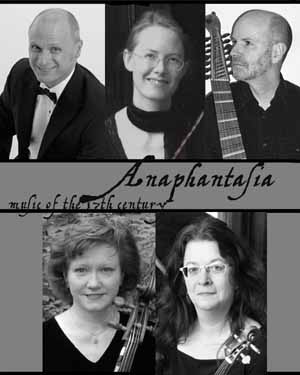 Divide and Conquer Program Notes
The Personlization of Popular Music in the 17th Century

Performers have always sought an opportunity to showcase their abilities – be it with pyrotechnical passagework, or the delicate embellishment of a beautiful melody. During the Renaissance, the musician's vehicle to these ends was the division, or diminution. Much like improvisational techniques of jazz musicians, divisions, or diminutions served to decorate a melody with passage-work, allowing the performer to display his full capabilities. Our program includes works of English and Italian composers and performers from the mid-16th to the mid- 17th century, all based upon madrigals and songs popular at the time.

Girolamo Dalla Casa flourished in the second half of the 16th century, and in 1568 was responsible for forming the first permanent instrumental ensemble at San Marco in Venice. His second book of madrigals, published in 1590, is subtitled "con i passaggi" – meaning "with diminutions" - and contains his own embellished versions of madrigals by other well-known composers. In this program you will hear Dalla Casa's diminutions of Orlando di Lasso's chanson Susanne un jour.

Upon his death in 1601 Dalla Casa was suceeded as head of the instrumental ensemble at San Marco by his colleague Giovanni Bassano, who was mentioned in 1612 as leader of one a company of instrumentalists who were engaged to play during major festivities in Venice. Frais et gaillart, his 1591 embellished version of the Clemens non Papa chanson, although contemporary with Dalla Casa, is quite different in the style of ornamentation. Strong evidence suggests that the Bassano family were Jews. The family coat of arms, which displays three silkworm moths and a mulberry tree, implies that the family had been engaged in silk farming, a trade which the Jews introduced into Italy. Around 1540 a group of Giovanni's ancestors, five recorder playing brothers, were employed by the court of Henry VIII, and moved to England, the rest of the family remaining in Venice.

Sixteenth century English fashion favored all things Italian, and the court appointed yet six more Italian musicians at roughly the same time, this time all string players, and most likely also all Jews. Among them was a member of the Almaliach family, who in England became known by the name of Lupo. Ambrose Lupo played the viol, as well as the violin, and was father to the composer Peter Lupo. Three sets of divisions in this program, Pavana, Pied de cheval, and Milord markes galiarde, come from a manuscpript source known as The Lumley Books, and have been tentatively identified as being in Peter Lupo's hand.

Another Italian in England was Angelo Notari, who joined Prince Henry's household around 1610, together with one of the keyboardists on this program, John Bull. When Notari came to England he brought with him an autograph score-book containing Italian vocal music and several pieces for violin and a bass instrument. La Monica is one of three sets of variations on Italian ground basses which come from this collection.

Time went on, and divisions remained a well-loved medium of musical expression. Not only madrigals, but also popular songs or ballads were used as a basis for variation. John come kiss me now is a Scottish folksong, which exists in versions from a variety of composer/performers, including Thomas Baltzar and Davis Mell. Baltzar and Mell were contemporaries, both well-known violinsts in mid-17th century London. Baltzar caused a sensation in England, though he has been compared with Mell, who 'play'd farr sweeter than Baltsar, yet Baltsar's hand was more quick and could run it insensibly to the end of the finger-board'. After Baltzar's death, it was written that 'being much admired by all lovers of musick, his company was therefore desired; and company, especially musicall company, delighting in drinking, made him drink more than ordinary which brought him to his grave'. Davis Mell, on the other hand, was described as 'a well bred gentleman and not given to excessive drinking as Baltzar was'. Mell made clocks and watches during the 1650s, presumably to supplement his income. An inventory taken after his death on 27 April 1662 includes four clocks, three watches, three violins and a bass viol.

Amarilli di Julio Romano is Peter Philips' set of florid variations on Giulio Caccini's famous solo madrigal Amarilli mia bella. Philips, an English-born and Catholic musician, settled in the Netherlands in the late 1580s after spending several years in Rome as a refugee, and travelling extensively throughout Europe. An important source of his keyboard music, which is rarely to be found in English collections, is the Fitzwilliam Virginal Book, a manuscript collection of approximately 300 works by English and continental composers, among them John Bull, William Byrd and William Inglott.

John Bull was employed in the household of Prince Henry in 1610, together with Angelo Notari and Thomas Lupo, a nephew of Peter Lupo. In 1613 he fled to the continent: according to Bull himself, for religious reasons. An official letter, however, claims that Doctor Bull "did in that dishonest matter steal out of England through the guilt of a corrupt conscience, to escape the punishment, which notoriously he had deserved, and was designed to have been inflicted on him by the hand of justice, for his incontinence, fornication, adultery, and other grievous crimes." Nonetheless, Bull was reputed to be a phenomenal keyboard player. His widespread fame brought a need for display pieces, and his keyboard music, which forms by far the most extensive part of his output, was described as "excellent for the hand." The King's Hunt is a set of vigorous and original variations on a ground bass, using off-beat chords, fast scale passages, and rapid-fire repeated notes to dazzle his listeners.

William Byrd is perhaps the most well-known composer of keyboard music on this program. He had an exceptionally long musical career, 60 years. His keyboard music exists only in printed collections, the first of which to appear was My Lady Nevells Book in 1591, which included the Earle of Oxfords Marche, also titled The Marche before the Battell. The Earl of Oxford was a Catholic, as were all of Byrd's closest associates and patrons. The Queenes Alman is Byrd's set of variations on La Monica, a tune of extreme popularity, already introduced on this program in a version by Angelo Notari. Peregrine Bertie, Lord Willoughby of Eresby, one of the bravest and most skillful soldiers of his time, had distinguished himself in the Low Countries in 1586, and in the following year, on the recall of the Earl of Leicester, was made commander of the English forces. Lord Willoughby's Welcome Home was presumably written to commemorate this event. The tune, also known as Rowland, was as popular in the Netherlands as in England, and continued to be so until long after Lord Willoughby's death in 1601. Three French Corantos are settings of French chansons.

Little is known about the English composer and organist, William Inglott. The Leaves bee greene, also known by the title Browning, is one of the two pieces which represent him in the Fitzwilliam Virginal Book. The title derives from a couplet underlaid to each statement of the tune in one source of Byrd's five-part setting of Browning: 'The leaves be green, the nuts be brown, they hang so high they will not come down.'

Paul's Steeple, or The Duke of Norfolk, is frequently mentioned under both names. The steeple of the old Cathedral of St. Paul was proverbial for height. In 1561 the steeple was set on fire by lightning, burnt down, and was never reconstructed. Mr. Payne Collier printed a balled, written on the occasion of the fire, and it seems to have been intended for the tune:



Lament each one the blazing fire,
That down from heaven came,
And burnt S. Powles his lofty spire
With lightning's furious flame.
Lament, I say,
Both night and day,
Sith London's sins did cause the same.


All in a Garden Green is a song which was popular in England and on the continent, familiar in settings of William Byrd and Jan Pieterszoon Sweelinck. The version on this program is our own.