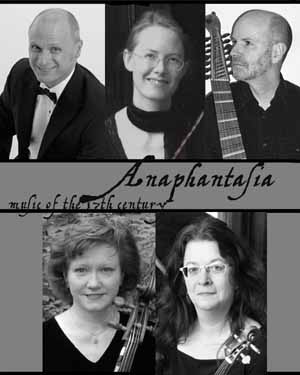 From Ferdinand to Leopold Program Notes
Italianism at the Viennese Court

In this program Anaphantasia delves into the Habsburgian hunger for the wild and sublime nature of Italian musical style. Ferdinand II (1578-1637), Ferdinand III (1608-1657) and Leopold I (1640-1705) were intrigued by all that was Italian, not least of all due to Ferdinand II's marriage to Eleonora Gonzaga in 1622 - an event which was of crucial importance for Viennese musical life and culture in general. Ferdinand II began importing prominent Italian musicians from Mantua, Venice, Florence and Rome, and eventually replaced nearly the entire Hofkapelle with Italian musicians.

Giovanni Battista Buonamente was first active at the Gonzaga court, possiby working under Monteverdi, and it is likely that he was one of the musicians accompanying Princess Eleonora Gonzaga to her wedding, in 1622, to Ferdinand II. Between 1626 and 1629, possibly as late as 1631, he served as musicista da camera to Emperor Ferdinand II. Much of his surviving instrumental music was published during this period, and he is considered to be one of the first to introduce the Italian violin style north of the Alps. His preferred compostional forms were the variation-sonata and the canzona-sonata, both of which will be presented in this program. The first sonata by Buonamente is based on the popular melody "Ruggiero," and a set of variations on the popular song: Questo è quel luoco closes the program.

The piece that opens the program is included in The Rost MS, a collection of German, Austrian and Italian sonatas assembled and copied, seemingly, around 1653, by a priest named Franz Rost. The Rost MS is a valuable resource because it contains many pieces that have not survived otherwise. The heading of this Sonata a 3: Auth. Fuchs., reveals very little to us about who the composer might actually have been. One possibility is Vinzenz Fux (1606-1659), who was employed as a musician in the service of the Empress Eleonora in Vienna.

Born in Verona, where he also received his musical training, Antonio Bertali enjoyed a reputation as an excellent violinist, being called 'valoroso nel violino', as well as a long career at the Viennese court. An imperial resolution of 1666 refers to his 42 years' service. Bertali gained enough admiration as a composer to be entrusted with the composition of music for special occasions at court, such as the marriage of Ferdinand III in 1631. Following closely after his death were two publications of his instrumental music, in 1671 and 1672. The two pieces that represent him on this program have come down to us only in manuscript.

In 1656 Johann Caspar Kerll became Kapellmeister at the court of the Elector Ferdinand Maria in Munich. Soon after, he married and became the father of eight children. A quarrel occurred between him and the Italian singers at the Munich court in 1673, and as a result he abruptly resigned and moved to Vienna. Emperor Leopold I granted him a pension in 1675, and in 1677 he became one of Leopold's court organists. His eight toccatas are an illustration of the sort of improvisation for which Kerll was so well known. Each toccata begins with sustained harmonies (freely rolled chords), followed by several contrasting contrapuntal sections. This toccata, as do many of his toccatas, ends with a gigue-like section in 12/8.

It is not known when Johann Heinrich Schmelzer arrived in Vienna, or who gave him his musical training, but it is possible that he studied with Antonio Bertali. The earliest documentary evidence, in 1643, describes him as a cornettist at the Stephansdom. An imperial resolution of 1674, however, indicates that he began service as early as 1635-6, probably as a violinist, the capacity in which he enjoyed his greatest fame throughout his life. His most successful works were his ballet suites and chamber music. Austrian folk elements can be heard in his melodic and rhythmic variety, particularly the alternating 3rds and 6ths. His sonatas consist of several short sections in contrasting metres and tempos. The sonatas in this performance come from his collection entitled Duodena selectarum sonatarum, published in 1659.