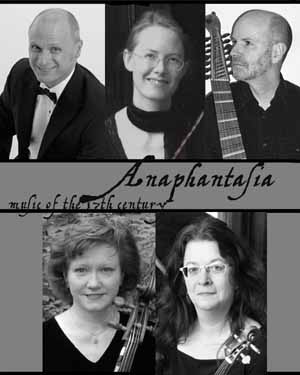 Joys and Sorrows Program Notes



From the joy of a child's birth to the sorrow of a great loss, events that affect us deeply inspire a wide range of emotions. Profound experiences span borders, cultures and time, and represent a common thread that connects us as humans. The power of music to reflect emotions is at the same time mysterious and inexplicable, yet comforting. The ancient Greeks were perhaps the first to suggest that music and modes had tremendous power to arouse the emotions. With a spirit of curiosity and discovery, composers of the early Baroque, such as those on our program, cultivated the ancient philosophy of music and emotions. Joys and Sorrows features some of the sublime instrumental and vocal music of England and Italy.

Giovanni Martino Cesare (1590-1667) was a cornettist who was employed at the court of Duke Maximillian in Munich for the majority of his life. La Gioia (Joy) comes from Cesare's collection, "Musicali melodie, 1621" which includes both instrumental canzoni, and sacred vocal pieces. The collection was dedicated to various members of the wealthy Fugger Family of Augsburg, where Cesare worked before moving to Munich. Cesare named some of the canzoni after the four brothers in the Fugger Family. Other titles refer to attributes of the family, i.e. "La Constanza" (resolution), "La Famosa" (fame), and the piece on our program, "La Gioia."

Ancor che c'ol partire is a four part madrigal by Cipriano de Rore (1515/16 to 1565). Born in Flanders, de Rore lived and worked in Italy for most of his life. Starting in the later part of the 16th century, it was common for composers and performers alike to create divisions (often highly ornate) from a line of a madrigal or motet. With more than thirteen division settings by six different composers, Ancor che c'ol partire was one of the most popular madrigals used for this purpose. Tonight's division by Bovicelli is one of two that he composed. Though clearly taken from the melody Ancor che c'or partire, Bovicelli replaced the text with "Angelus ad pastores." The madrigal will first be played in its original version by keyboard. Then you will hear the setting by Bovicelli with the lower three voices played by members of the ensemble.

The English lutenist, John Johnson (c. 1550-1594), is often considered the founding father of the 'Golden Age' of Elizabethan lute music. Johnson's music was found in manuscripts throughout Europe, and later matched, only in extent, by Dowland. Go Merely Wheele was written for two lutes and is attributed to Johnson. Our arrangement of this piece was made by Evan Plommer.

Henry Purcell (1659-1695), coined the "Orpheus Britannicus," was one of England's most prolific composers of the late 17th century. His output included sacred and secular vocal works as well as instrumental works. Chaconne in canon is taken from Act III of his tragicomic semi-opera The History of Dioclesian.

Giovanni Battista Buonamente (1595-1642) was a Franciscan friar who was active as a violinist, singer and composer. He worked not only at the Gonzaga court in Mantua (perhaps with Monteverdi), but also in Vienna for the Emperor Ferdinand II. Later, Buonamente worked in Bergamo, Parma, and finally in Assisi as maestro di cappella of the Basillica di S. Francesco from 1633 until his death. Buonamente was known mostly for his instrumental compositions, and he published seven books of sonatas, sinfonias, canzonas and dances. He is widely considered to be among the pioneers (along with Marini and Farini) to disseminate the new violin style north of the Alps. Sonata Prima from Book Six, published in 1636, is in a three part form (two sopranos, bass and continuo), a form borrowed from vocal collections of Monteverdi (such as Parlo miser o' taccio, next in the program.)

Claudio Monteverdi was at the forefront of introducing a new dramatic style of musical composition in the early1600's. No stranger to joys and sorrows, Monteverdi's young wife died soon after the performance of his groundbreaking opera, Orfeo. And yet, a few years later, Monteverdi reached the pinnacle of musical exultation as maestro di cappella of San Marco in Venice. We have chosen three of Monteverdi's vocal compositions for our program; Parlo miser o taccio, Venite sitientes and Zefiro Torna (the final piece of our program). Each selection is different in affect and style.

Parlo miser o taccio is written for two soprano and bass voices and continuo. It comes from Monteverdi's seventh book of madrigals. Monteverdi's earlier collections of madrigals consisted mostly of five part pieces. Book Seven breaks this trend by including pieces with one to four voices plus continuo and some obbligato instrumental parts. Monteverdi titled this collection "Concerto" perhaps because of its eclectic content.

Venite sitientes is from Monteverdi's book of sacred motets "raccolta de'sacri canti." Written for two sopranos and continuo, its sweet harmonies and gentle melodies give support to the loving devotion of God.

Not much is known about Dario Castello. It is believed he was a musician at San Marco, but the records are not conclusive. What we know is that he wrote two collections of sonatas that were some of the most difficult and expressive instrumental pieces at that time. Unlike most of Castello's sonatas, which are marked with dramatic shifts of affect and intensity, Sonata Seconda from Book One is sweet and gentle in nature, much like Monteverdi's Venite sitientes.

Biagio Marini (1594-1663) worked both in Italy and Germany and was quite influential in establishing a new violin style (as was his contemporary, Buonamente). Marini was a violinist at San Marco in Venice early in his career, most likely under Monteverdi. Later he received appointments as music director in Düsseldorf, Milan and Brescia. Zarabanda terza comes from a collection for two to four instruments (strings primarily, though the violin part was often interchangeable with Cornetto). A Zarabanda (also known as the sarabande) was originally a sung dance that originated in Latin America and came to Europe via Spain in the late 16th century. The arrangement you will hear tonight is by Evan Plommer for theorbo.

All in a Garden Green was a popular folk song in England that also had settings created by multiple composers including John Jenkins, William Byrd and John Playford. Tonight's arrangement of this traditional tune was written by Paula Kibildis and also demonstrates the art of division making.

Much of Elizabethan lute music had its foundation in dance music. A pavan is a slow processional dance. Johnson's Delight Pavin is an example of such, and was written for solo lute. Our arrangement of it was created by Evan Plommer.

Chi passa was originally an Italian folk song that was popular in the 16th century. This piece is in the form of a villotta. The villotta (later called villanella) was often comic and satiric in subject matter and would contain nonsensical words. Chi passa was adapted by several composers including Filippo Azzaiolo (1530-1569), a lutenist who likely worked in Bologna. Azzaiolo's version of Chi passa for lute became well known and served as a model for other composers to build on. William Byrd wrote a version of it for keyboard in 1591.

John Dowland (1563-1626) was perhaps the most notable lutenist and song writer of his time. We have three selections by Dowland: Mr. Thomas Collier His Galliard (1604) comes from a collection of 25 dances for five viols and lute.

The lute solo John Smith's Almain exists in two manuscripts, each with different titles. The first was dedicated to a "Mr. Smith" and the second to a "Sir John Smith." This seems to indicate that the piece was dedicated to a John Smith of Essex who was knighted in 1605. An almain is a dance with German origins in a duple meter. Both Mr. Thomas Collier His Galliard and John Smith's Almain have been arranged by Evan Plommer.

Time Stands Still from Dowland's Book of Songs, Book Three may be a love song in praise of Queen Elizabeth. It has been suggested that the line "she remains the same" reflects Elizabeth's personal motto semper eadem, which means "always the same."

Among his many achievements in music, William Byrd (1543-1623) was organist at the Chapel Royal in London, a post he shared with his teacher Thomas Tallis. Byrd composed consort music, sacred and secular music for voice, and a great deal of music for keyboard. The March Before the Battle (also known as The Earl of Oxford's March) appears in the manuscript "My Ladye Nevells Book" of 1591. This collection includes 42 pieces for keyboard. It is unclear whether Lady Nevell was a student or a patron of Byrd's.

Monteverdi's Zefiro Torna is from Scherzi musicali (musical jokes). It is written for two tenors and continuo. It starts with a rollicking ciaccona bass line which continues while the voices sing with joy about the advent of spring which accompanies the return of the Zephyr, or west wind. A brief recitative bemoans the sense of loneliness the author feels, only to be replaced quickly by the giddiness and joy of spring once again.